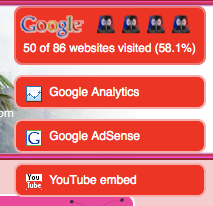 Click here for more screenshots
Google Alarm Firefox add-on
Get notified when Google is monitoring your web browsing
The Google Alarm Firefox addon visually & audibly alerts you when your personal information is being sent to Google servers.
Even outside Gmail and YouTube you are constantly sending information to Google through their vast network of tracking bugs: Google Analytics, Google AdSense, YouTube embeds, API calls.. all of this data be used to monitor & track your personal web browsing habits.
Google Alarm shows notifications, plays sound effects and keeps running stats about the % of websites you've visit with Google bugs present. Stay alert – install Google Alarm today.
As seen on CNN (2x), NPR, Marketplace & more...>